Project Reveal: Roscoe Village Attic Remodel
October 16, 2019
This charming attic belongs to an old property in Roscoe Village. When the owners came to us, they wanted to turn the space into a master bedroom and bathroom. The room had an unusual layout, and there was a large unused chimney running through it as well. Our team came up with a design that would brighten the space and allow for a clean, modern look.
The unused chimney was making it challenging to create a functional layout, so we removed it and designed a seamless entry from the bedroom to the bathroom. The door to the bathroom is where the old chimney was located.
To brighten the dark attic, we added three large windows that bathe the room in natural light, and the new, wood flooring further brightens the space.
For storage, we crafted a built-in shelving unit that houses the TV, books, and other knick-knacks.
To create a contrast with the bedroom decor, we gave the master bathroom an industrial look with black-and-white tiled flooring, an industrial-style sink, and a vintage shower. The gold shower and fixtures on the sink and tub add a dash of glamor and enhance the look.
When the project was completed, our clients told us that they were happy to find someone who could interpret their style and vision and turn it into reality.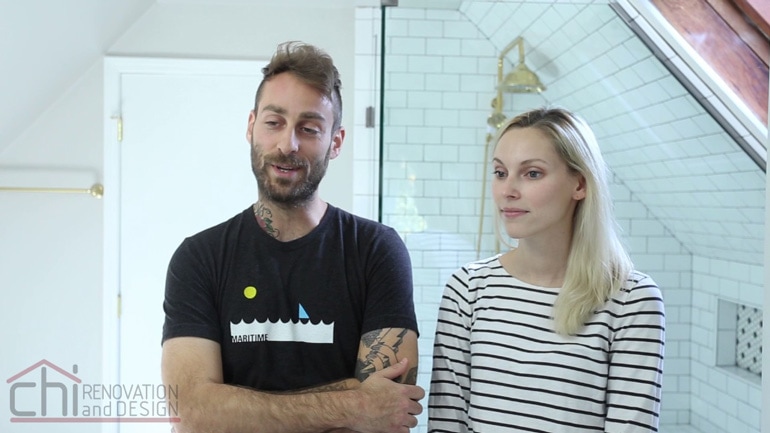 Are you looking to remodel your Chicago home? Take a look at our design portfolio.
We take great pride in our design excellence, craftsmanship, and customer service — we maintain a 5-star average in over 250 customer reviews including on Angie's List, BBB, and Houzz.
Call us at 847-983-4024 for a Free Consultation.