The Emotional Ebb and Flow of a Renovation
June 17, 2022
It's a big moment when you decide to remodel a part or all of your home. It doesn't matter whether you're embarking on a single room rehab like a bathroom or working on multiple rooms in a house, you will experience an abundance of emotions throughout the process. Some of these emotions will be great and some not so great. It's something you probably don't think much about when you're in the early stages of planning a renovation, especially if this is the first time you are doing a remodel, but the variety of emotions will creep up on you.
Here are some things to think about as you embark on your renovation journey.
Pre-Planning
An important first step is do some pre-planning. Before you make your first call, time spent discussing the project with your partner or anyone's opinion you trust is invaluable to help lower future stress. Homeowners should have a good understanding of: (1) the specifics and limits of their project, (2) the financial commitment, and (3) flexibility on changes during the project. If you are a couple, by coming to agreements on these areas ahead of time future decisions will be made easier and with less tension.
Some stressors can include the more intangible psychological and emotional issues between couples when they decide to embark upon a remodel. This process tends to bring to the surface whatever dynamics are being played out between them that may have been hidden by the consistency of their
physical space, and not having to deal with important decision-making and major expenditures.
Examples include communication, lack of renovation knowledge, differences in design and taste, conflict resolution, control of decision-making and finances, difficulty adjusting to the disruption of personal space and common routine by the mess of demolition, and coping with the noise and inconvenience of construction.
For couples who want to avoid adding marital strain during the unavoidable remodel stressors, it is best to come to agreement about an approximate budget for the project before beginning. It's also good to decide who will be the primary decision maker about matters of taste when these issues arise. Most couples find that requiring both to mutually approve of every decision is just too much to bear.
The Beginning
When you're ready to start a renovation there's excitement and an emotional high. You may have started looking for ideas and started to imagine what your new space is going to look like. You begin to investigate companies that could help with your project.
Meeting with designers or project managers is also fun as they talk with you about the project and offer ideas to make your renovation even better than what you were originally thinking. The same goes for reviewing plans and drawings, allowing you to see the vision of your kitchen or bathroom for the first time on paper as your new reality is taking shape.
The Contract
There may be an emotional low when the contractor comes back with the estimate for the project. No matter how prepared you are for your home transformation, sticker shock is something that can catch homeowners by surprise. Your excitement was building in the early planning stage, but now reality has set in, and decisions have to be made on whether or not to accept the initial estimate or make changes. Once the contract has been agreed to and signed there is a feeling of relief and accomplishment, you've taken the first big step on your project.
Construction
Now it's time for the real work to begin. You have strangers in your home, your routine is disrupted, and you don't have access to all of the rooms in your home. There is physical disruption with your belongings being moved around. Even though contractors try to keep your space as clean as possible, it's likely that some dust or dirt may get around your home. Some of this stress can be relieved by having honest and clear communications with your project manager. Open communications allow you to stay informed and help you feel more comfortable addressing a negative situation or changes you want to take place. You may also find yourself worrying or second-guessing yourself about your decisions and talking with your project manager can help alleviate that stressor.
While the renovation is going on, try to stick to your daily routine as much as possible. This will give you some sense of normalcy and control while you are in the throes of the remodel, and help you feel better about your decisions.
Timing
As the saying goes, timing is everything. In the beginning, evaluate if you have a hard deadline or is the project timing flexible for any delays that might occur. For example, you may take longer deciding on something or you may want to make design changes. Making changes to a design during construction can not only affect the timeline but also the cost.
From waiting for permits to be obtained, materials to be delivered, and finding unexpected problems during demolition, project delays can be incredibly frustrating. During waiting periods, it's best to remain calm and know that things will work out.
There are many components to a remodel. If any project delays occur, talk with your project manager to find out if any work can be done while you are waiting for the delayed item to be completed. Expect the unexpected and you will experience more calm and greater satisfaction during the project.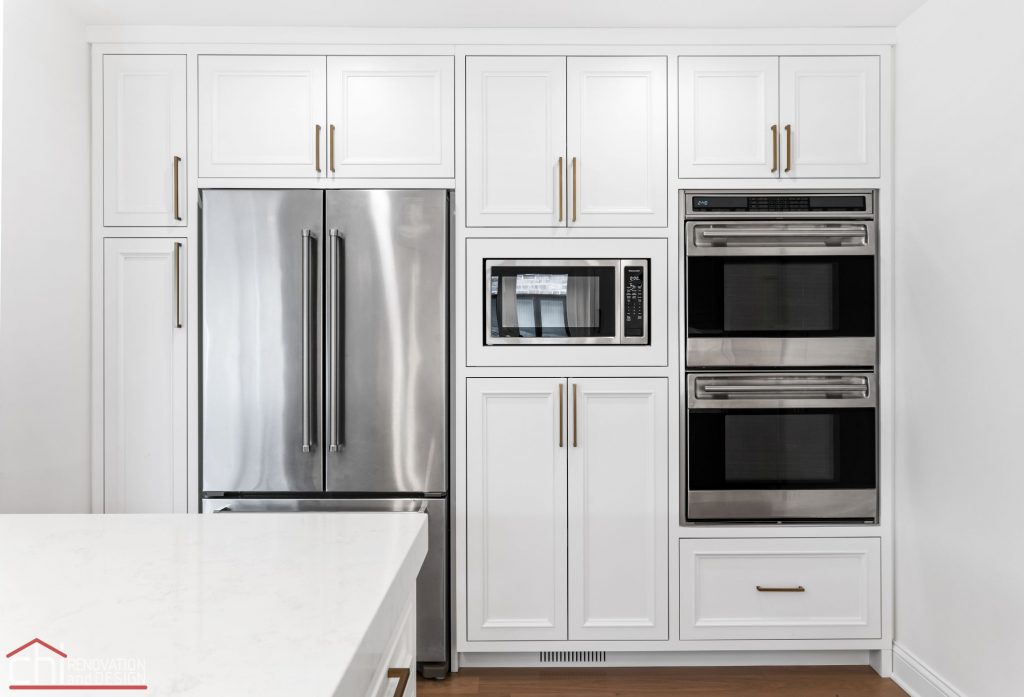 The Finish Line
Then comes the thrill of seeing the completed renovation. You may have been watching as it was being constructed, but when the area has been cleared you get to really see your new, beautiful space. Any uneasiness you may have felt during the process is replaced with the joy of being able to use the space, and gratitude toward the team that brought your dream into reality. In the end it was all worth it and better than you expected.
The '2019 Remodeling Impact Report,' surveying more than 2,000 homeowners, found that 79% of people feel a major sense of accomplishment when the remodel is completed and 82% have a greater desire to be at home since completing the project. Those are some good indications that remodeling is often a good choice for those who feel inclined to pursue a change. (Source: NARI, National Association of the Remodeling Industry)
About Us
Chi Renovation and Design was founded to fill a vital role in the construction industry in Chicago: the demand for quality design service from a trustworthy company. We take pride on our high-end designs, quality of construction, and most importantly, our client satisfaction. We understand that a home renovation can be a stressful process and that is why we are committed to providing the best customer experience in the industry. We treat every client's needs uniquely and our workers respect their home as they would their own. We would love to help you with your design and renovation needs.

Tags: Flow of a Home Renovation, Flow of a Renovation, Home Renovation