Chicago's 10 Most Popular Basement Remodeling Styles
April 29, 2019
Everyone knows that remodeling your Chicago basement is a smart, cost-effective way to increase usable square footage and increase the value of your home. Yet, what is less known is that when people commit to renovating their basement, they often think more creatively and put more of their personality and unique needs into the project.
As Chicago basement remodelers, we've transformed countless basements into highly functional spaces that add value to the owner's home and life. Here are the 10 most popular basement remodeling styles that we've been seeing in Chicago:
1. HOME THEATRE
Basements either don't have windows or they have minimal ones, so there's minimal outside noise or glare from the sun. This makes them ideal for setting up a home theater. The furniture in this room should ideally be high on comfort, such as sofas that you can lie in all day and binge watch Game of Thrones. Or, go with home theater seating for that movie experience. A projector and screen, along with a popcorn machine, will elevate your cinematic ambiance. Pro tip: don't skimp on your speaker system — especially the bass!
2. PLAYROOM
Think fun art on the walls, ample storage (wall cabinets, storage trunks), inflated toys, and child-friendly furniture. Pick materials that are easy to clean like washable paint. To keep your kids cushioned and warm, use a colorful area rug. Pro tips: Ensure the longevity of your flooring by using tile or PVC flooring. Select a natural wood look to create warmth for your space.
3. MAN CAVE OR LADY LOUNGE
Turn your Chicago basement into a man cave or lady lounge. Think leather recliners (for him) or velvet chaise lounges (for her). Maybe a foosball table or pool table. A bar. He might enjoy a good tv system for sports games. She might enjoy seating that is conducive to intimate conversations. Add a cave/lounge, or design your basement for two separate (but equal) spaces.
4. ENTERTAINMENT LOUNGE
Your Chicago basement can be remodeled to host parties or drinks night with friends. Keep the walls bare with an exposed brick look (using brick veneers over your concrete foundation), get the right mood with soft lighting, stock the bar with everything needed for a bacchanalian feast, install a state-of-the-art sound system, and have enough open space for dancing. Skip the nightclubs, you'll have more fun with your friends in the comfort of your own home.
5. GUEST ROOM
So friends can crash at your place without disrupting your space. Add warmth to the area with soft furnishings like a carpet or an earthy color on the walls. Don't clutter the space with unnecessary furniture. All the room needs is a comfortable bed with pastel linen (it lightens the space), and some storage space.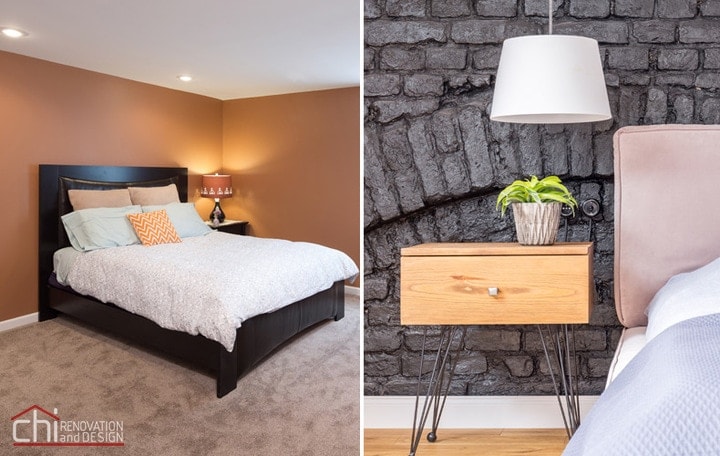 6. FITNESS ROOM
Ditch the gym and remodel your Chicago basement to cater to all your exercise needs. Keep it high on functionality with rubber flooring — the strong, resilient material is ideal for exercise as it reduces body impact, is shock absorbent and water resistant. It's also great for placing equipment. Keep the walls and lights bright unless you do yoga or more meditative forms of exercise in which case, have the option of mood lighting.
7. STUDIO
Remodel your Chicago basement to follow your passion without interruption. The design and functionality will depend on what you use the space for. For example, musicians need soundproofing, a recording booth, space for instruments and mixers, and of course, a fabulous sound system. The purpose of the studio will define its design.
8. OFFICE / LIBRARY / STUDY
If space is tight upstairs, your Chicago basement can be remodeled to become your new office, workspace, or library. This is a perfect solution for anyone who likes to have total silence and privacy while working. And, it allows you to keep your desk a mess as company won't be intruding on your space!
9. RENTAL
Remodel your Chicago basement into an independent unit and rent it out as a short- or long-term rental. You will have to add a kitchen/kitchenette and a bathroom. If possible, give the basement a separate entrance to ensure privacy. Before making any remodeling decisions, make sure you are aware of any local regulations related to the situation.
10. PRIVATE SPA
Enjoy the leisure of a sauna at home. Your Chicago basement remodeler can design a bespoke sauna for you with an attached walk-in shower. For additional pampering, add a massage bed, a manicure and pedicure station (popular with moms and their daughters), and/or a steam room.
We hope our ideas have inspired you to start thinking of creative ways to utilize the space in your Chicago basement. We'd be happy to discuss your basement renovation project with you. If it seems like we can help, we'll send our designer to your home to give you a complimentary consultation.
We take great pride in our design excellence, craftsmanship, and customer service — we maintain a 5-star average in over 250 customer reviews on Google, Yelp, Angie's List, and Houzz.
Call us at 847-983-4024 for a free consultation so that we can start the process of remodeling your dream basement.