Project Reveal: 1950's Retro Humboldt Park
December 18, 2019
The owners of this Chicago home wanted us to design their kitchen with a 1950's retro twist. It was such a unique project, and we loved the challenge. We gave our clients exactly what they wanted: a retro design done with exceptional craftsmanship.
Here our clients share about some of the major design decisions:
The previous kitchen was drabby and didn't function well. Our clients wanted to make the space fun and functional. Keeping with the retro vibe, the palette for the cabinets is bright minty-green. The storage is a combination of pull-out drawers and lazy Susans. The wall cabinets feature glass inserts and are underlit.
We further accentuated the 1950s look with a white countertop, an apron sink, and red accents highlighted by the retro diner-type chairs and polka dot curtains. Even the appliances and fixtures have a nostalgic twist. Our Chicago design-build team sourced all items to fit the unique theme.
Lastly, a subway tile backsplash and retro tile flooring complete the look.
Our Chicago design-build team was thrilled when the press caught sight of this project and published it in some of the country's best decor media.
Some of the media mentions: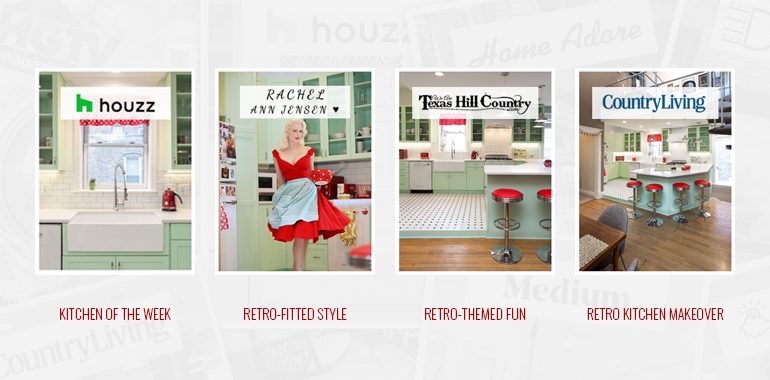 Would you like your Chicago kitchen, bathroom, or home renovated with a unique theme? Maybe a unique penny backsplash as we used here in this kitchen? We will be happy to help you realize your dream.
We take great pride in our design excellence, craftsmanship, and customer service — we maintain a 5-star average in over 250 customer reviews including on Angie's List, BBB, and Houzz.
Give us a call at 847-983-4024 for a free Consultation.