Selecting Cabinets for Your Chicago Kitchen Remodel
May 28, 2019
Kitchen cabinets are one of the most expensive parts of a kitchen remodel. And, they will be with you for many years to come. So you'll want to make sure you get them right.
In this blog, our kitchen designers and builders share with you what you need to keep in mind when making your kitchen cabinet choices, including considerations on style, form & function, color, material & finish, and hardware.
DEFINE THE STYLE
Modern Rustic & Transitional:
These custom, flat-panel cabinets were finished with rift sawn oak with a straight wood grain. The dark color and smooth finish offer the perfect balance of modern with a hint of rustic.
Traditional:
Cherry wood shaker cabinets create a classic setting.
Retro:
Add a theme to your kitchen by using a retro look yet with the latest technology. This minty green 1950s diner-style Chicago kitchen certainly sets the mood.
FORM AND FUNCTION
The utility decisions for your kitchen cabinetry will depend on the amount of space you have and what you want to use the cabinets for. Lazy Susans and roll-out cabinets work best for storing utensils and spices. Open shelves can be incorporated into the kitchen island to store books, etc., and you can even squeeze a wine rack into your cabinetry.
COLOR
A dash of color can add oodles of personality to your Chicago kitchen. For a tamed, understated look, go for blues and grays, or keep things light with pristine white: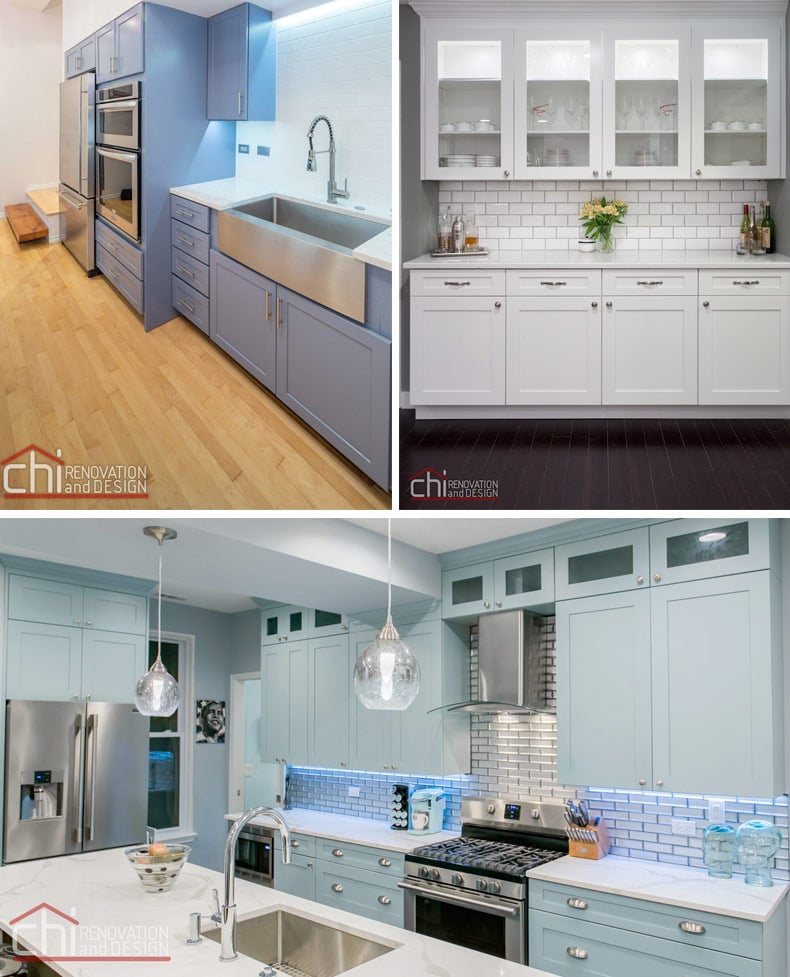 MATERIAL AND FINISH
Solid wood looks beautiful, it's strong, and it's available in an array of styles and prices. Plywood and MDF (medium density fiberboard), are less expensive options, but they can be made to look as good as wood. If you want your cabinets painted, MDF is your best option owing to its smooth surface.
HARDWARE
Chrome, pewter, and brass drawer pulls are in-vogue at the moment. If you prefer knobs, you might want to ditch the common round variety for unique shapes like rectangular, square, oval, and other geometric patterns.
A well-designed kitchen takes more than just reading information on the internet and trying to piece it all together. You'll want an experienced Chicago kitchen designer to lead the design process so that you don't make costly mistakes. And, you'll want that designer to work tightly with the builders so that there is fluidity in the process (and no finger pointing if something goes wrong). That is why we use the design-build process.
Are you ready to update your Chicago kitchen cabinetry? We're happy to be of service.
We take great pride in our design excellence, craftsmanship, and customer service — we maintain a 5-star average in over 250 customer reviews on Google, Yelp, Angie's List, and Houzz.
Just call us at 847-983-4024.
We'll be happy to give you a free consultation and then create your dream kitchen!